Thu 17th January 7pm - late
(and then through appointment)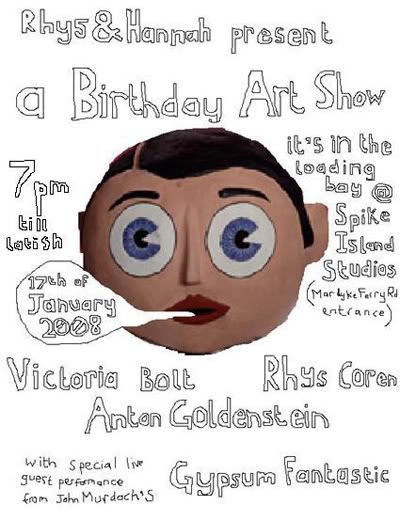 Well, it was a fantastic success. to celebrate the 25 years
that Rhys has been alive,
Rhys & Hannah Present
put
together a show in the Comissioning Bay down at Spike
Island Studios. it was the first collaborative show for
Rhys & Hannah Present and we had a very lovely time
with generous offerings of local scrumpy, artwork from
Victoria Bolt, Rhys Coren and Anton Goldenstein, a live
performance of the infamous 'Milo' song from Gypsum
Fantastic aka John Murdoch and DJ sets from Milo
himself and Christopher Wright. Here are some photos...
Paper Frank.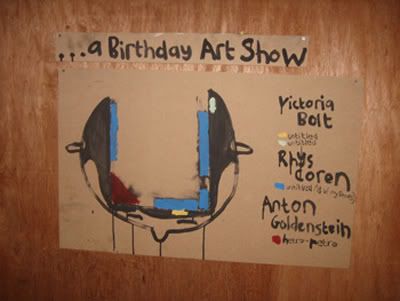 Frank's plan.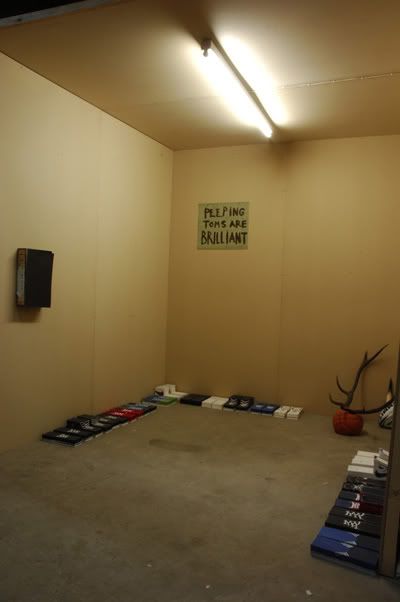 inside Frank.
detail of untitled (all 18 of my shoes), 2008
acrylic, wood.
Dimensions variable.
Rhys Coren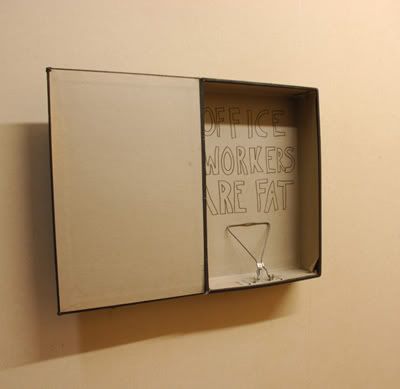 untitled, 2007
folder, pen.
35cm x 50cm
Victoria Bolt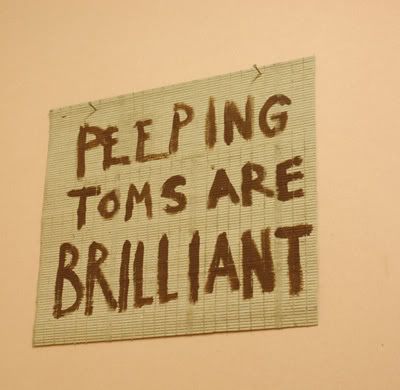 untitled, 2007
blinds, emulsion
50cm x 40cm
Victoria Bolt
Hentro-Retro, 2007
sports balls, horn, antlers.
Dimensions variable.
Anton Goldenstein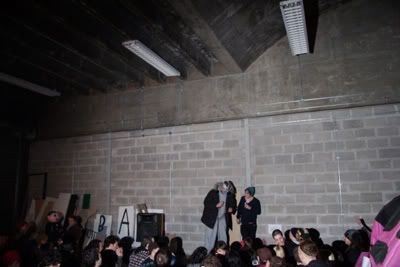 Jordan Evans-Viney introducing Gypsum Fantastic
Grange Hill theme tune.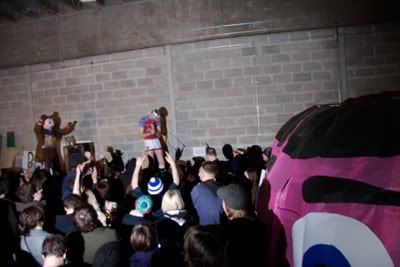 what year was that Villa kit?
Chris Wright.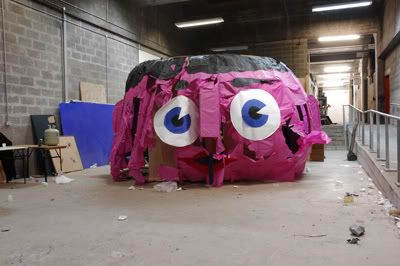 Thanks to all the artists involved, especially
Anton Goldenstein for helping build the 'space' and also
Kieran Brown (http://www.kieranbrown.co.uk/) for
running the bar in fancy dress. For pictures we thank
Worboys, Kung and Tor.
Biggest thanks to Jordan Evans-Viney though for grafting
long and hard to make big paper Frank a reality for
nothing more than the odd Marks&Spencer salad.