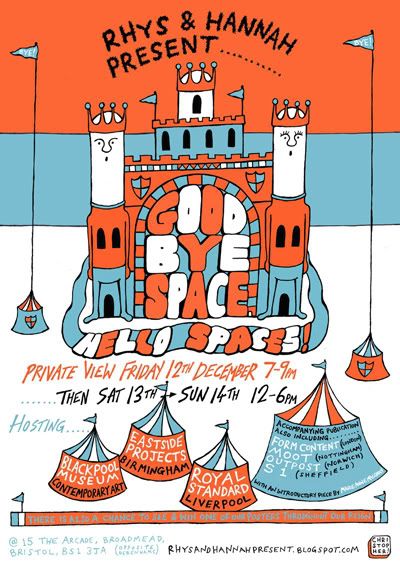 It seems like only yesterday I was stood back watching as
Hannah swept away years of pigeon poop, but, sadly, our
time at 15 The Arcade has come to an end. We thought
we'd go out with a bang, though, and end with something
that etches the artist-led ethos deep!
So, as, come the end of December, our artist-led space is no
more, we're hosting projects from artist-led

Blackpool Museum of Contemporary Art
,
Eastside Projects
(Birmingham) and
Royal Standard
(Liverpool), with
an accompanying fanzine publication with contributions from
all of the above,
Form Content
(London),
Moot
(Nottingham),
Outpost
(Norwich),and
S1
(Sheffield) with an introductory piece
by Marie-Anne Macquay, curator of Spike Island, Bristol.
There will be alot of representatives from the various spaces
so make sure you come and pick their brians. And see art.

SEE YOU THERE!
Private View: Friday 12th December 7-9pm
Open: Saturday 13th December - Sunday 14th December 12-6pm