DATES AMENDED!!!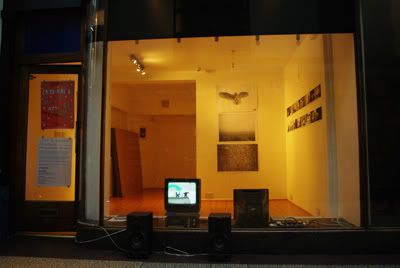 (this image is from the Clap Your Hands Say Show in September)



Rhys & Hannah Present…
Window
Window is an opportunity for artists to show at Rhys &
Hannah Present in November. Artists have the opportunity
to make an application to exhibit using the large window
on our ground floor, with special attention being placed
on the artwork being viewed, solely, from the outside. This
window faces the pedestrianised Arcade walkway in
Bristol's Broadmead City Centre, an area that has up
150 000 weekly users.
We will be selecting two proposals for
installations/artworks from applicants that best meet
the potential of the large window and subsequent area
behind, and also engage with the high amount of potential
viewers. Applications for Window can be in any media and
must be received by email at
5pm Friday 7th of
November.
Applications must include:
1. Up to 6 jpeg images of work/work in progress important
to your proposal (though please keep each image around
100-500kb to save our inbox)
2. A proposal of up to 500 words outlining how you'd
make best use of opportunity
3. A recent CV
Applicants will be selected throughout the week starting

Monday 10th of November.
The first show will open on
Friday
21st November


and run until

Monday 24th November




The second show will open on
Friday 28th November


and run until

Sunday 7th December
Dimensions are: 255cm x 190cm
Please send all applications or any questions to

rhysandhannahpresent@hotmail.com